An anti-French military demonstration is staged in Bamako, Mali, with activists demanding that French soldiers be completely withdrawn from their homeland.
Some carried Russian flags and placards asking for increased collaboration between Mali and Russia, while others chanted anti-Russian slogans.
There was a rather low turnout for the protest organized by Yerewolo Debouts Contre Les Remparts.'
Following heavy rains earlier in the day, the turnout was smaller than organizers had anticipated.
The protest took place after Germany's defense minister revealed that 12 German soldiers and one soldier from another nation had been injured in an assault on soldiers participating in a United Nations mission in Mali.

"I'd be very happy, like at a party, if France left Mali today. But, really, everything has become worse since we trusted them with our protection "Bakary Coulibaly, a local was particularly agitated.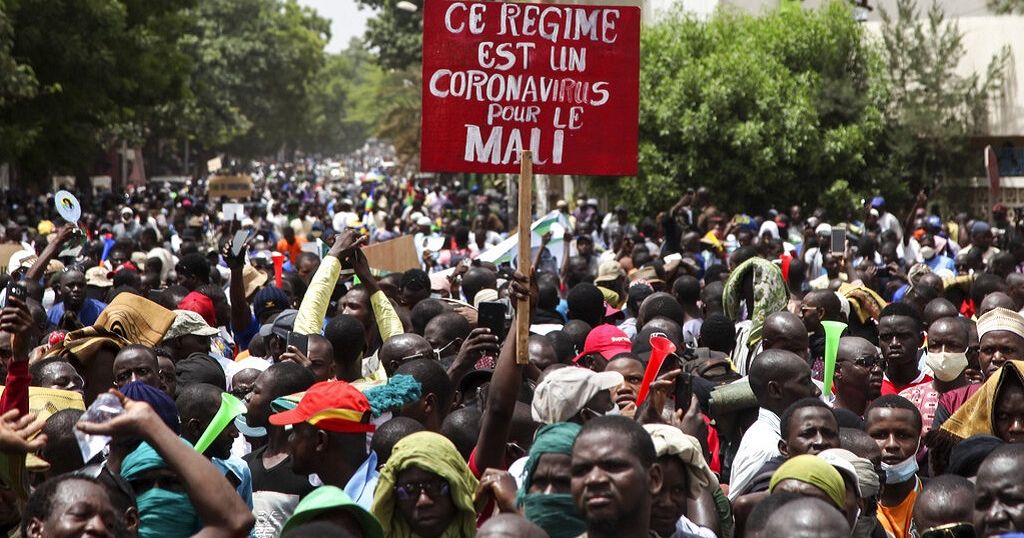 In a previous statement, the United Nations mission in the nation, MINUSMA, said that 15 troops were injured after a car bomb was detonated near a temporary operating base in the Gao province.
Hundreds of German soldiers are now serving in the West African country as part of United Nations stabilization and European Union training missions.
"There are wounded Germans, which saddens us since Germany is not seen as an occupying power here. However, they are being controlled by the French. Germany came here with good intentions to defend us against terrorists, but they now find themselves caught up in France's Machiavellian plans. "According to Pape Diallo, a spokesperson for the protest group 'Yerewolo – Debout Sur Les Remparts.'
Since 2012, Mali has been attempting to quell an insurrection led by Islamic extremists. A military coup in Mali last year has complicated things even more, and the junta's officials have come under fire from both France and the African Union for their actions.