39-year-old former Brazilian midfielder Ronaldo de Assis Moreira, commonly known by his football name Ronaldinho Gaúcho or simply Ronaldinho, is currently detained in Paraguay over allegation of attempting to use a fake passport to enter the country.
Ronaldinho was arrested on Thursday, 5th of March, 2020 along with his brother and has since been reprimanded by the Paraguayan authorities.
He has been kept in a police cell instead of being taken to prison since he was arrested.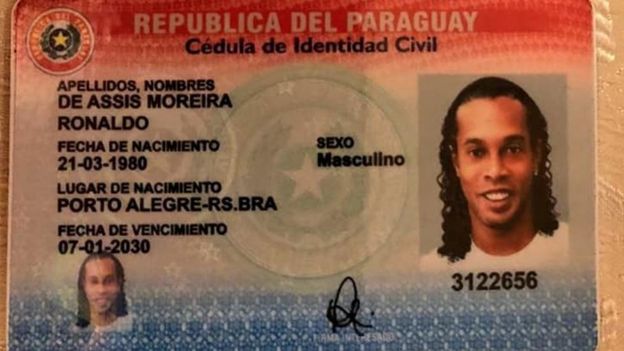 An attempt on Saturday to have him bailed failed following a ruling by the court that the 39-year-old is a potential bail flight, should he be granted bail.

The legendary talisman is, however, scheduled to reappear in court today, with reports that lawyer Sergio Queiroz plans to request his release back to Brazil together with his brother.
If the explanations given by the Court are anything to go by, the football superstar is at the risk of facing up to six months in detention which is the period for investigation over matters relating to passport fraud.
Ronaldinho was in 2004 and 2005 the World Player of the Year. He won the World Cup for Brazil in 2002 alongside fellow superstar forwards Rivaldo and Ronaldo.